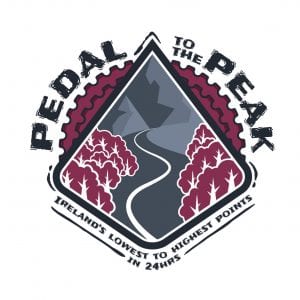 About Pedal to the Peak
Pedal to the Peak was a major challenge undertaken by the parents and staff of Herbertstown NS. A group of 7 parents and 1 teacher aimed to travel from the lowest point in Ireland to the highest point in under 24 hours. This involved a cycle from the lowest point, the North Slob in Wexford, to Carrauntoohil in County Kerry. Following this 270KM journey the group then aimed to hike to the top of Ireland. No one had ever attempted or completed this challenge before! The group completed the challenge in 16 hours and 40 minutes! On the same day, a group of 40+ parents and staff also hiked to the top of Carrauntoohil.
The Pedal to the Peak committee are delighted to announce the fantastic results of our June fundraiser.
Monies fundraised:         €38,990
Expenses:                  €2,355
Charity donations:   €4,000 (€2,000 to Clíona's Foundation & €2,000 to CMRF Crumlin)
Net to school:            €32,635
We could not have achieved this amazing total without the involvement and dedication of so many people. Huge thank you again to the 8 cyclists and 40 hikers who participated in the event, to family, friends and sponsors for donating so generously and to the P2TP committee for all their hard work behind the scenes.
Here are some pictures of the Pedal to the Peak group training for the massive challenge!
Launch Photos
For more photos from the launch, click on our Facebook page. Photos courtesy of Pat Moloney.
Informational Leaflets