Our Pedal to the Peak fundraising event took place last weekend and was a fantastic success.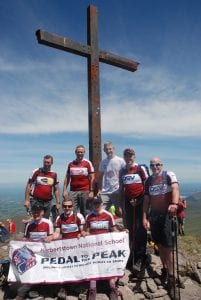 Our team of 8 completed the challenge of travelling from the lowest point in Ireland (the North Slob in County Wexford) to the highest point (Carrauntoohil) in 16 hours and 40 minutes. This was the first time that this challenge was ever attempted!
When they reached the top of Carrauntoohil shortly before 2 o'clock on Saturday they found 42 familiar faces waiting for them as many parents, staff and friends of the school also climbed Ireland's highest peak on the same day.
It was a great occasion for all and thank you to everyone that was part of making Pedal to the Peak such a success.