Ash – Is it the only suitable wood for the clash?
Our fourth class made the short journey into Limerick today to exhibit their project at the RDS Primary Science Fair in Mary Immaculate College. The children have been working on the project since October. Elements of the investigation involved a fieldtrip to hurley maker Ed Shanahan, identifying alternate woods for hurleys, testing the 'new' hurleys and interpreting the results.
The project was very well received by visitors to the Fair and huge credit is due to the pupils both for the effort they put into completing the investigation and also for the way they represented their school today. In a nice co-incidence, the judge assigned to our school was 18 time All Ireland winning camogie and football player Rena Buckley. The Cork legend gave some feedback to the class on the project and presented the pupils with an award for their hard work.
Here is the feedback received by the class:
The research question was both clear and catchy. The class predicted that the traditional timber, ash, would be best. It was obvious that huge thought was put into the design of this project, to test the various timbers in every aspect of the game of hurling/camogie. This was very impressive. The results of the tests were presented very clearly using a bar chart and the use of different colours to combine results of all the tests meant patterns were very easy to follow. The hurleys on display also contributed positively to the project. The discussion of the results and the preferences students relayed showed how each student contributed and enjoyed the project. This was a really impressive project which was excellent from both a science and interesting point of view – well done to all.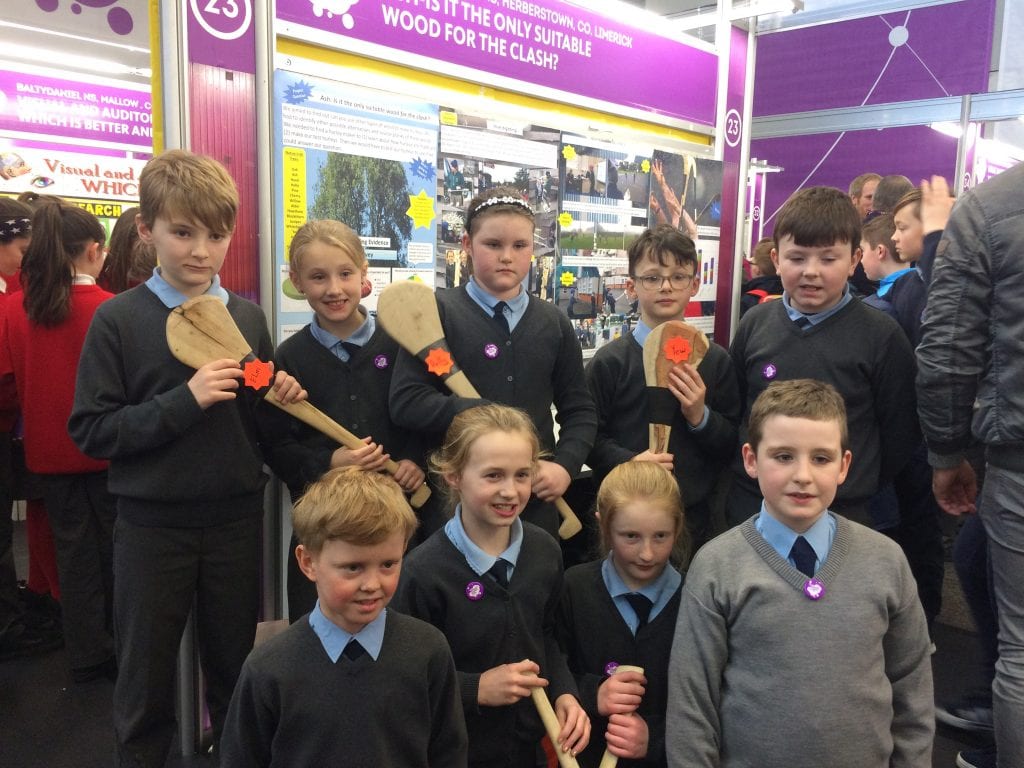 Some of fourth class at their stand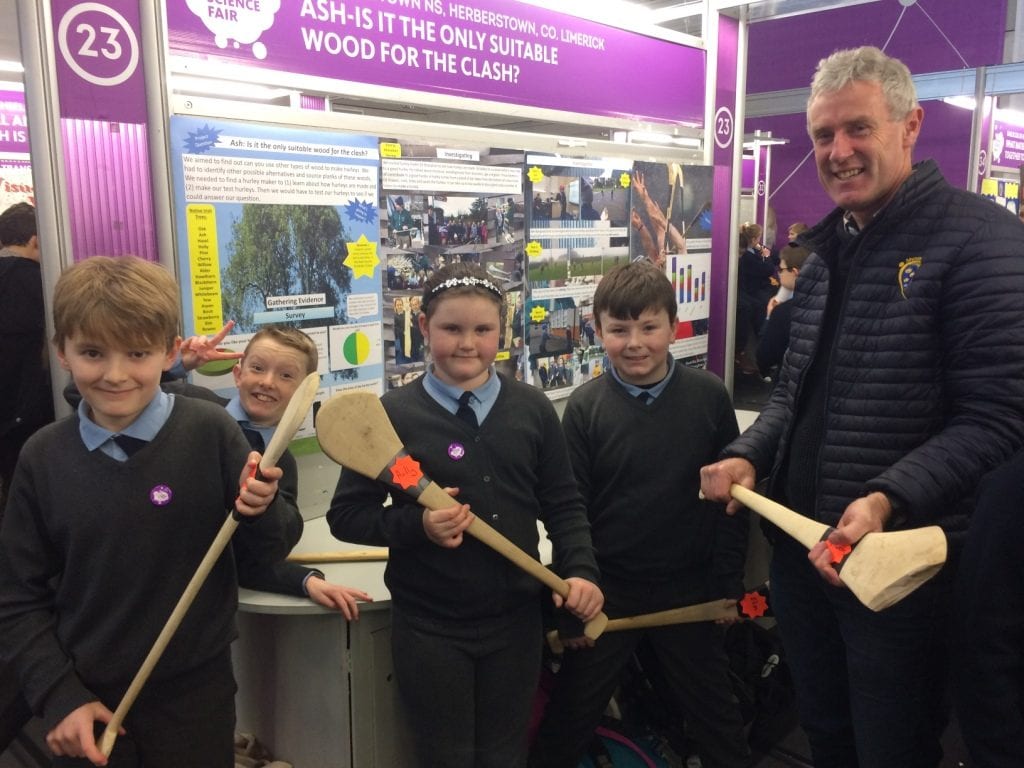 Former Limerick footballer and Mary Immaculate College Sports Officer John Reddington visiting our stand.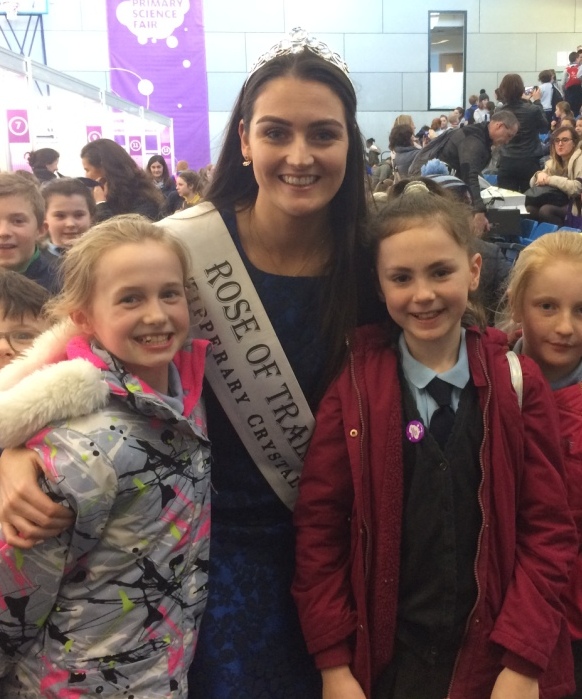 Our pupils with 2017 Rose of Tralee Jennifer Bryne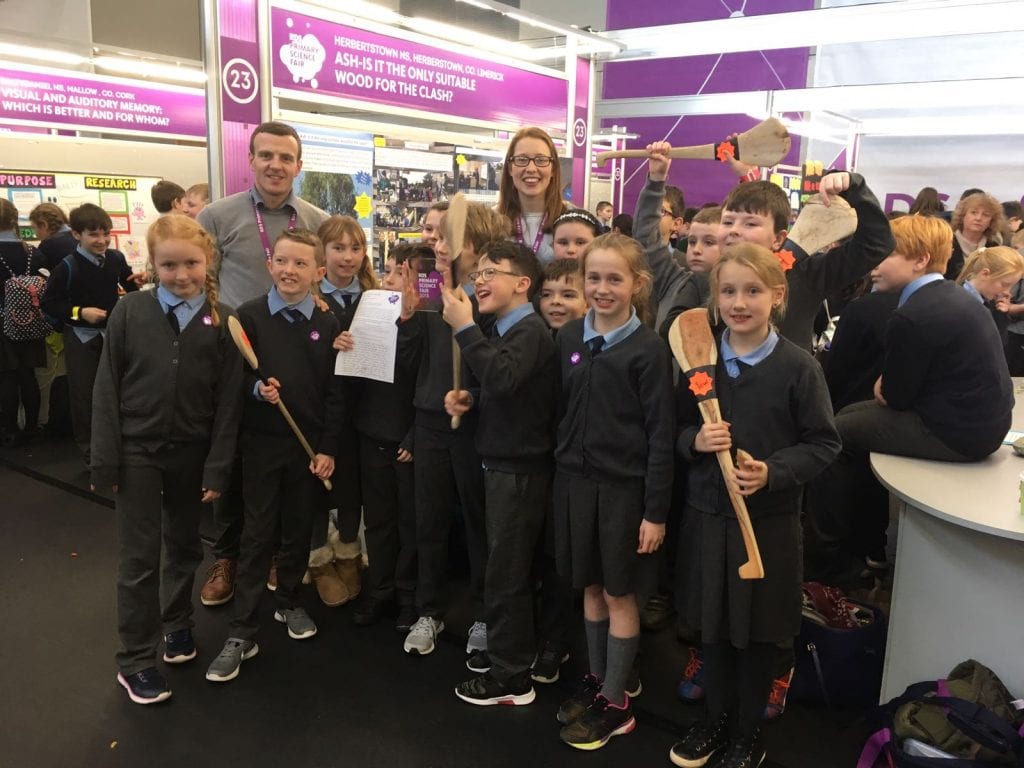 The class receiving their award from Cork star Rena Buckley.