The Frogs retain their title on a day where 2 new flags were raised outside the school.
2019 saw another action packed Sports Day play out in Herbertstown and great fun was had by all in lovely weather.
Congratulations to Ms Davis and her committee on securing the Health Promoting Schools flag following months of hard work.
Herbertstown NS was celebrating on the double with the raising of the new GAA 5 Star Centre Flag. Our school is one of the first in the county to be awarded this flag and huge credit is due to the hard work of the pupils over the course of the year working on their GAA skills and taking part in games and after school training. Limerick hurler Paddy O'Loughlin was on hand to raise the flag.
Our Pádraig Pearse Cup and Ned Daly Shield finals were played as per tradition and congratulations to Limerick and Dublin, the victorious teams. Well done to all who took part and produced some high quality football.
Congratulations are also due to Argentina who captured the coveted World Cup trophy following a gripping final that went all the way to penalties!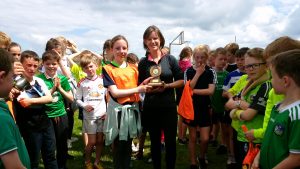 Pat O'Dea was on hand earlier in the day with his dance performances which showcased all the great preparation the pupils had been doing in the previous couple of months.
As usual, the school sports day was awash with colour as our teams did their best to pick up those all important 'Team Spirit' points. The races were a source of super excitement with some thrilling finishes! At the end of proceedings Mr Gubbins totted up all the results and it was The Frogs who were champions again! Well done to everyone that took part and made it such an enjoyable day!